What's Qsampler ?
Qsampler is a LinuxSampler GUI front-end application written in C++ around the Qt framework using Qt Designer. At the moment it just wraps as a client reference interface for the LinuxSampler Control Protocol (LSCP).
LinuxSampler is a work in progress. The goal is to produce a free, open source pure software audio sampler with professional grade features, comparable to both hardware and commercial Windows/Mac software samplers. The initial platform will be Linux because it is one of the most promising open source multimedia operating systems. Thanks to various kernel patches and the Jack Audio Connection Kit, Linux is currently able to deliver rock solid sub-5 millisecond MIDI-to-Audio response.
Licence: GNU General Public License (GPL)
Sourceforge project page: http://sourceforge.net/projects/qsampler
See also: http://www.linuxsampler.org

Screenshots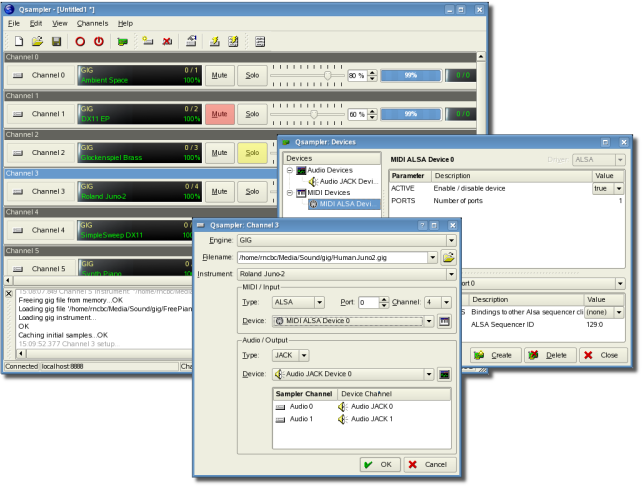 Click on image to see more screenshots...
Requirements
The software requirements for build and runtime are listed as follows:
Mandatory:
Optional (opted-in at build time):
Downloads
Latest release
2018-05-21 - Pre-LAC2018 release frenzy.
qsampler-0.5.1.tar.gz
Disable singleton/unique application instance setup logic when the display server platform is not X11.
Fixed device management dialog not responding to user changes.
A little hardening on the configure (autoconf) macro side.
Fixed minor memory leak in device management dialog.
Fixed unnecessary latency when closing app.
Previous and older pre-releases, including the change log, are also available here. You may also check out from the latest bleeding edge development source tree, using Git.
You can browse all files available for download, including binary packages, at Qsampler Files on SourceForge.net.
Installation
You'll need to install the liblscp package before you can play with qsampler. This is for LinuxSampler Control Protocol support library, which qsampler is based.
Grab the source from here: liblscp-0.6.0.tar.gz
The installation procedure is similar for both packages, liblscp and qsampler, and follows the standard for source distributions. For each one, in the extracted source directories, just do:
./configure [--prefix=prefix]

make
and optionally as root:
[sudo] make install
Note that liblscp is a shared library, so be sure to have it registered on your shared library path (either on LD_LIBRARY_PATH environment variable or on /etc/ld.so.conf). Maybe it's already up there.
The procedure for qsampler will install the following files:
prefix/bin/qsampler
prefix/share/applications/qsampler.desktop
prefix/share/icons/hicolor/32x32/apps/qsampler.png
prefix/share/qtractor/translations/qsampler_*.qm
Just launch prefix/bin/qsampler and you're off (hopefully). Note that the default installation path prefix is /usr/local .
Configuration
Qsampler holds its settings and configuration state per user, in a file located as $HOME/.config/linuxsampler.org/Qsampler.conf. Normally, there's no need to edit this file, as it is recreated and rewritten everytime qsampler is run.
Bugs
Plenty as this is still beta software. Bug reports should be posted on LinuxSampler bug tracker.
Support
Qsampler is open source free software. For bug reports, feature requests, discussion forums, mailling lists, or any other matter related to the development of this piece of software, please use the LinuxSampler project site.
You can also find timely and closer contact information on my personal web site.
Hope you enjoy,